Super Pusheenicorn is when the almighty Pusheenicorn transforms. She does this by eating a cookie, which becomes a eclipse moon shape. It then appears purple on her fur. Then, her fur turns white. She then grows small wings on her back. After that her mane turns purple and pink. She has so far only appeared in one gif.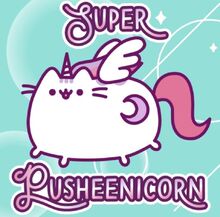 Ad blocker interference detected!
Wikia is a free-to-use site that makes money from advertising. We have a modified experience for viewers using ad blockers

Wikia is not accessible if you've made further modifications. Remove the custom ad blocker rule(s) and the page will load as expected.