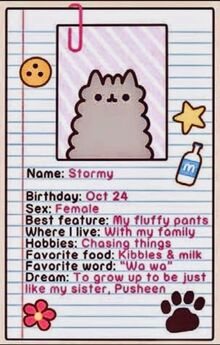 Stormy is a small, fluffy gray cat. She is a little sister to 
Pusheen
and big sister to
Pip
. She is seen in some Gifs, usually alongside her siblings. Her birthday is October 24th.
 (Note from SolSurviver: I'm sorry to say, but the original Stormy article was hacked. I tried to write down the original info, but I added some other things as well.) 
Ad blocker interference detected!
Wikia is a free-to-use site that makes money from advertising. We have a modified experience for viewers using ad blockers

Wikia is not accessible if you've made further modifications. Remove the custom ad blocker rule(s) and the page will load as expected.