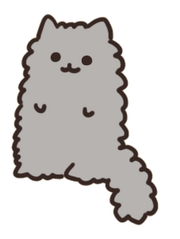 Stormy is a furry gray cat and little sister to Pusheen. She is seen in some animations, and seems to be mischievous and destructive, as shown in the 5 Stormy Games and Cat Wizards comic. Pusheen and Stormy seem to get along well, but have some problems sharing food. She is said to be a Siberian cat. 
She is Pusheen's younger sister.
She is only seen in some animations.
she's adorable and FLUFFY :3 ;3 ; ;3 ;3 3; 3; 3; 3; 3; :3 ;3 ;3 ;3 ;3 ;3 ;3 3; 3;3 ;3 ;3 ;3 ;3
Ad blocker interference detected!
Wikia is a free-to-use site that makes money from advertising. We have a modified experience for viewers using ad blockers

Wikia is not accessible if you've made further modifications. Remove the custom ad blocker rule(s) and the page will load as expected.