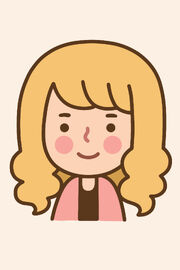 Claire Belton is, along with Andrew Duff, the creator of Pusheen. She is also author of I Am Pusheen the Cat. As depicted, she has blonde hair and brown eyes. She has written no other known books.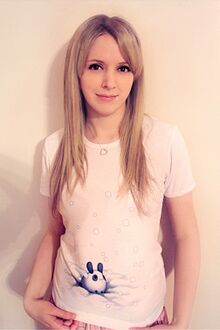 Claire Belton is an author, illustrator and entrepreneur. She is co-president and head designer at Pusheen Corp. Her past freelance work includes illustration for clients, such as Tokyopop, Official PlayStation Magazine, and Amaranth Games. She is awesome 
In 2008, while studying illustration at the University of Connecticut, she was awarded the tenth annual Raab Associates Prize for illustration in partnership with the Connecticut Children's Scholastic Book Fair. 
Claire Belton used to go under the handle of "QueenofDorks" on Deviantart. In her younger years, she was a big follower of sweet lolita fashion. Her main original character was her internet "persona," named Queenie.  
This character featured a cute bunny hat modeled after one of her animal characters Chichi, and a long striped scarf. You can find art of this character by searching "QueenofDorks" on Deviantart's art search bar.  
Her QueenofDorks account featured her chibi-styled art and product photos. Recently, she deactivated this account. She also managed www.cute-plush.com. Her shop featured many different charms and accessories. After closing down cute-plush, she created the website www.everydaycute.com with Andrew Duff to create comics about their cats.   
Later on, they revamped it to feature Pusheen, and went towards simple gifs instead of paneled comics. After Claire Belton created Pusheen's website, she immediately went incognito on the internet. All of her Deviantart journals featuring her personal life were deleted, and her personal portfolio website, www.clairebelton.com, was removed to only feature, "under construction."